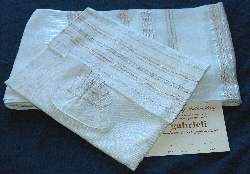 "Gabrieli Weaving" was founded in 1964 by Malka Gabrieli. Gabrieli Tallit and Judaica art shop located in Old Jaffa and downtown Jerusalem creates hand-woven, hand-loomed Gabrieli tallit sets in silk, wool & cotton.

Hand Loomed White/Gold Gabrieli light wool Tallit Set comes in size 20" x 75". Gabrieli Tallit set comes with Tallit, bag, and matching yarmulke. The tallit set has beautiful gold designed stripes.
The Gabrieli White/Gold Light Wool Tallit features gold stripes on white. It is a very elegant set. It makes a great gift for Bat Mitzvah or any occasion.
Tallit set is directly from Israel. Hand made from the fine loomed material of Gabrieli.
If embroidery of Hebrew or English name is desired it can be added for $15. Please write name in the text box at checkout.
You may be interested in our Best Sellers: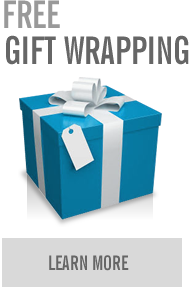 Jewish Bride & More, Inc.
8114 N. UNIVERSITY DRIVE
TAMARAC, FL.