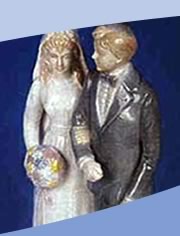 View/Manage Wishlist



Tell A Friend about Jewish Bride... & More
Wedding




Gifts and accessories for a Jewish Wedding!
Ani L'Dodi wedding rings, Groom's Wedding Glass, for Breaking of the Glass, groom's and ushers yarmulke, Personalized Parent's Gifts, Wedding Kiddush Cups, Mazel Tov Cameras, Chuppah Tallit and white wedding tallis, and printed celebration yarmulke for the guests.
Wedding art work from the Song of Songs. Jewish wedding cake figurines.



1
2
3
4
5
6
Next




Ani L ' Dodi Porcelain Kiddush Cups

A set of 2 white Porcelain kiddush cups inscribed in Hebrew; Ani L Dodi V Dodi Li. On the other side inscribed in English: "I am my beloved and my beloved is mine." Use these kiddush cups for your Jewish Wedding or Jewish Anniversary ceremony.

Ani L'Dodi V'Dodi Li Kiddush cups come with a velvet box and are gift boxed.

$65.00

Add to Wishlist




Ani L Dodi V Dodi Li Framed Print by Micki Caspi

Two tender peacocks adorn the traditional quote from the Song of Songs, "I am my beloved's and my beloved is mine." Suitable for Jewish weddings or anniversaries. Print comes with a beautiful gold frame, all ready to adorn your wall.

Beautiful artwork may be personalized with a gold 1 x 3 inch plaque with name and date inscribed in any language. $25 extra.

$65.00

Add to Wishlist




Ani L' Dodi Wedding Flute Glasses by Steve Resnick

Crystal Hand Made Champaigne Wedding Flute Glasses by Steve Resnick Studios, etched with Ani L'Dodi v'Dodi Li. Size is 7 inches H. Comes with 2 Flutes, the first one etched in Hebrew, Ani L'Dodi, and the second etched in Hebrew, V'Dodi Li. I am my beloved's and my beloved is mine, from the Song of Songs.

Have your Hebrew names etched on the glass and date etched on the bottom. $35 for personalization. Limited amount available!

$250.00

Add to Wishlist




Ani L'Dodi V'Dodi Li Large Framed Art Work

This beautiful framed art work by artist Mickie Caspi is 18" x 18" already to hang up.

Hebrew writing is Ani L'Dodi V' Dodi Li, and in English, I am my beloved's and my beloved is mine!

Delicate flowering vines reminiscent of Venetian motifs enhance the traditional quote from Song of Songs - " I am my beloved's and my beloved is mine."

This beautiful artwork may be personalized with a gold/black plaque, 1 x 3 inches. Personalized with name and date and special message. $25

$85.00

Add to Wishlist




Beautiful Apache Rose Kipah, new for 2012, is from the Desert Kippot collection by Diane Fuller. Chocolate colored, with beautiful stones from Arizona, the Rose is highlighted with blue and brown.
Each desert Kippot comes with a comb, firmly affixed to stay on your head.

$45.00

Add to Wishlist




Ballotin Box with 4 Chocolate Truffles

Ballotin shaped box, filled with your choice of four different truffles, tied with a shiny metallic ribbon. The sides of the box are hot stamped with the word "Truffles". The top of the box can be hot stamped with your personalization. Chocolate Truffles are Kosher Parve. An excellent favor for your Wedding, Bar/Bat Mitzvah, Anniversary, Bris or Baby naming, Birthday or Corporate Event. Miminum - 50 boxes. Personalization is included up to 2 lines. Additional line $15.

$3.99

Add to Wishlist




Bride & Groom Fine Porcelain Figurine

From the Moshe Yacov Collection. This Llardro look alike can be used as a cake topper. Groom is stepping on the glass and wearing a yarmulke.

8 1/2"

$75.00

Add to Wishlist




Broken Memories - Groom's Glass!

BREAKING OF THE GLASS!! Delicate Satin bag, edged in lace, with enclosed Groom's glass. Glass sewn in material to preserve shards. Easy for Groom to break.

Be sure to save the shards and have them put in our lucite heart, cube, or mezuzah kit.
Personalization embroidery is available with name and date on the Satin Groom's glass bag.

$35.00

Add to Wishlist




Broken Memories - Lucite 3" Cube

Lucite cube to preserve the broken shards! 3" Cube with beveled edges and base. Inscription of names and wedding date included. Please select your choice of color below.

GIFT CERTIFICATE can be sent to bride, prior to wedding, if this is to be used for a Wedding, Shower, or Engagement gift.

Please enter bride and groom's name and date in the Inscription box.

$205.00

Add to Wishlist




Broken Memories - Lucite 4" Cube

Lucite Cube to preserve your shards from the groom's glass. 4" Cube with beveled edges and base. Inscription of names and wedding date included. PLease select your choice of color below.

GIFT CERTIFICATE can be sent to bride, prior to wedding, if this is to be used for a Wedding, Shower, or Engagement gift.
Please include bride and groom's name and date in inscription box, when ordering.

$235.00

Add to Wishlist

1
2
3
4
5
6
Next